Audio Compressor - Features
The key features of Audio Compressor are: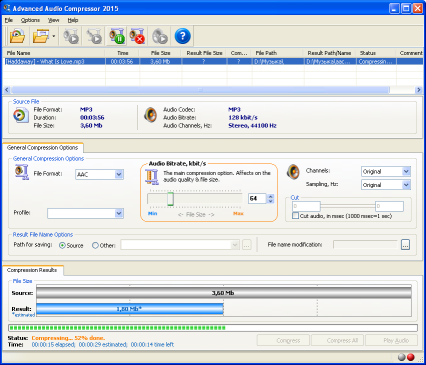 Audio Compression Engine implements the most advanced audio compression algorithms to create resulting audio files with the highest quality/file size ratio.

Get MP3, OGG, WMA, AAC, AMR audio files, or set "Original" to get the resulting file in the same file format as the source one.

Over 100+ video/audio codecs and over 20+ video/audio file formats (containers) are supported to decode source files, including : AVI, WMV, FLV, 3GP, MKV, MOV, MP4, MPEG, MPG, DIVX, XVID, ASF, AVM, AVS, DAT, F4V, NSV, OGM, RM, RMVB, TP, TS, VOB;


Convert video to audio by opening video files as source files. Set any bitrate and other compression options and get audio files in MP3 or other supported formats.


Easily set bitrates for video and audio data, to get any desired file size.

Audio sampling rate and number of channels controls allow you to easily change these values.

Visual graphics to preview compression results let you see the resulting file size and its changes depending on set compression options.

Profiles considerably improve the processing of multiple files the same way. A profile contains the set of compression options. You can create, save, and apply named profiles.

Batch compressing mode lets you easily process multiple sorce files. You can set renaming and other options to process a selected group of files.

Easy-to-use and highly customizable user interface. "Under the hood" of very simple and clean user's interface is hidden a very complex compression engine.
Download Free Audio Compressor | Buy Advanced Audio Compressor